Hedera
Hedera Hashgraph Analysis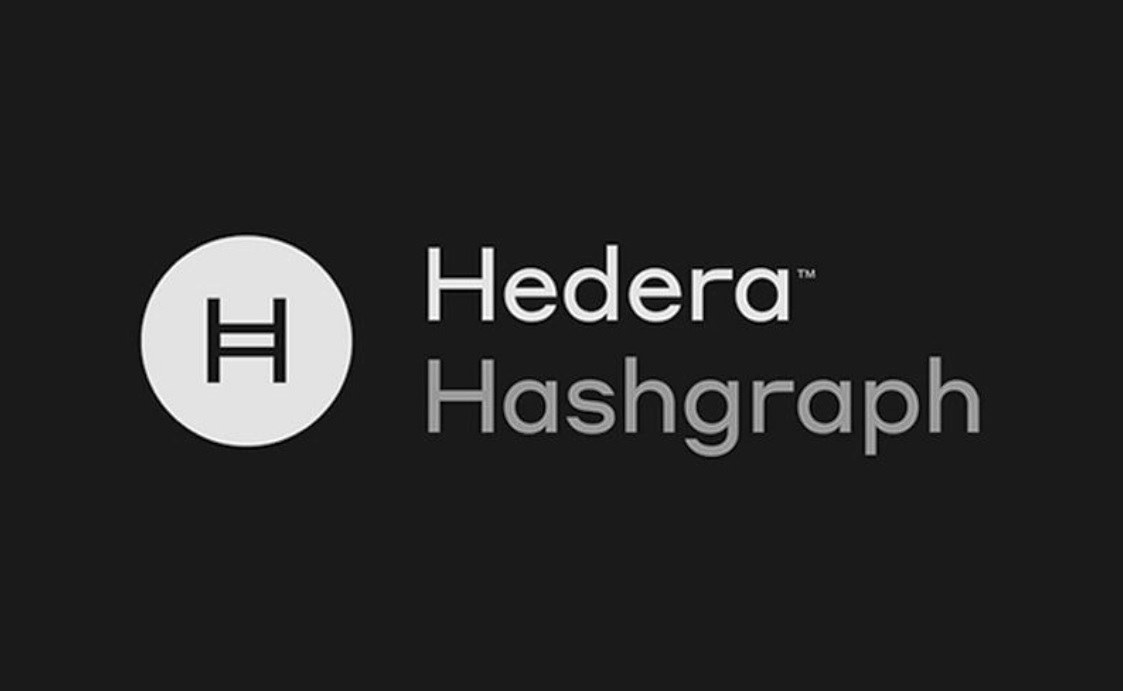 How did Hedera Hashgraph Start Out?
The Hashgraph was created and patented in 2016 by Swirlds CEO, Dr. Leemon Baird as a faster and more scalable alternative to existing distributed ledger technology (DLT) protocols.
The Hedera Hashgraph cryptocurrency describes itself as "the most used, sustainable, enterprise-grade public network for the decentralised economy".
It was first aimed at the financial and corporate sector, allowing greater transaction and security using the application of the directed acyclic graph (DAG).
The Hashgraph was initially chosen as the DLT of choice for a consortium of 6000 banks looking to create an interoperable network.
This first interest led to the creation of the Hedera Hashgraph Platform, which can be seen as analogues to the Ethereum network, albeit without traditional blockchain technology and a differing management model.
Blockchain Vs. Hashgraph Technology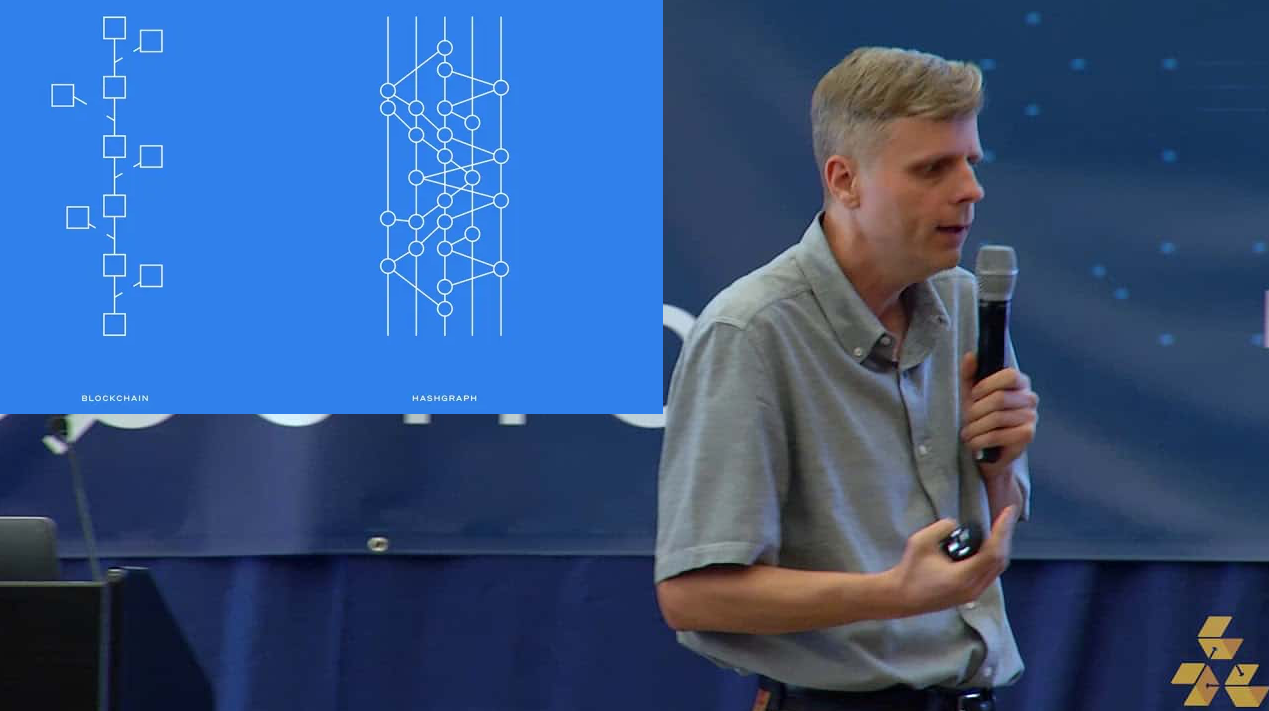 Blockchain Technology
A first-generation Proof-of-Work (PoW) Blockchain such as Bitcoin operates in a linear fashion, meaning all the nodes, the participants of the network, collect all the transactions that are flowing into the network and arrange them into 'blocks'.
Each 'block' contains the transaction information, a timestamp and a cryptographic 'hash' of the previous block (the hash converts the data into a fixed string of random digits). All this data is generated into a further hash which is linked to the next block forming a 'chain'.
The 'nodes' then have to compete with one another, and consensus (agreement) has to be reached as to which block will be the next in the chain.
This process can take a lot of energy to process, and it can be slow, as all of the nodes have to reach consensus, so some see it as inefficient.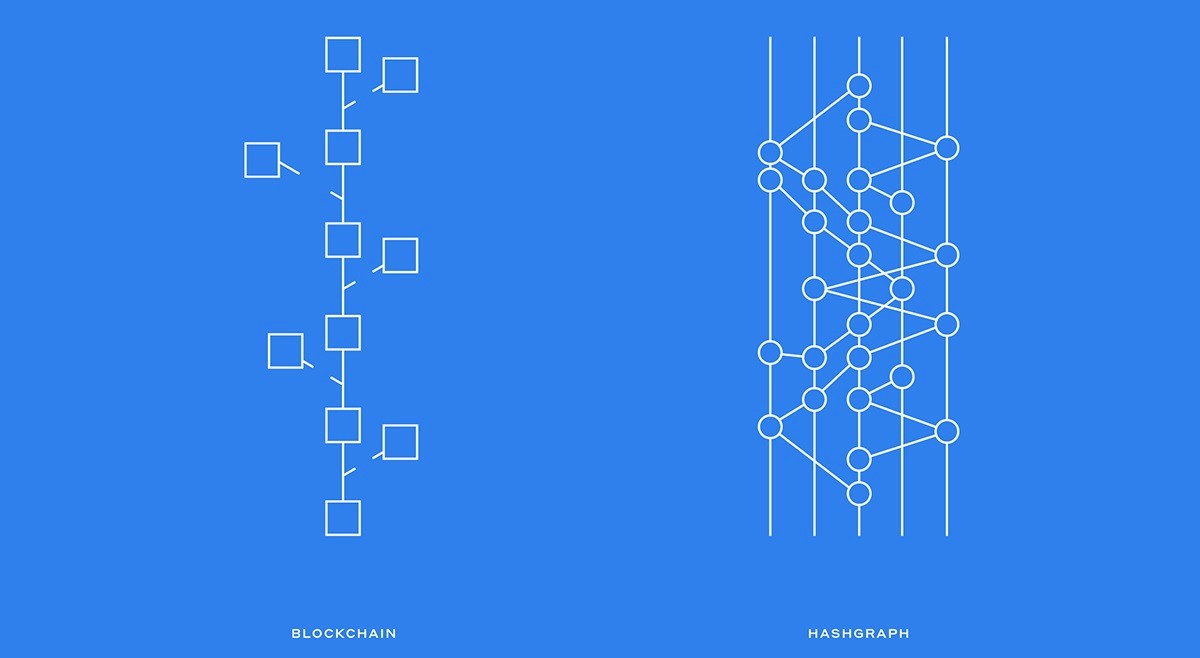 Hedera Hashgraph Network Technology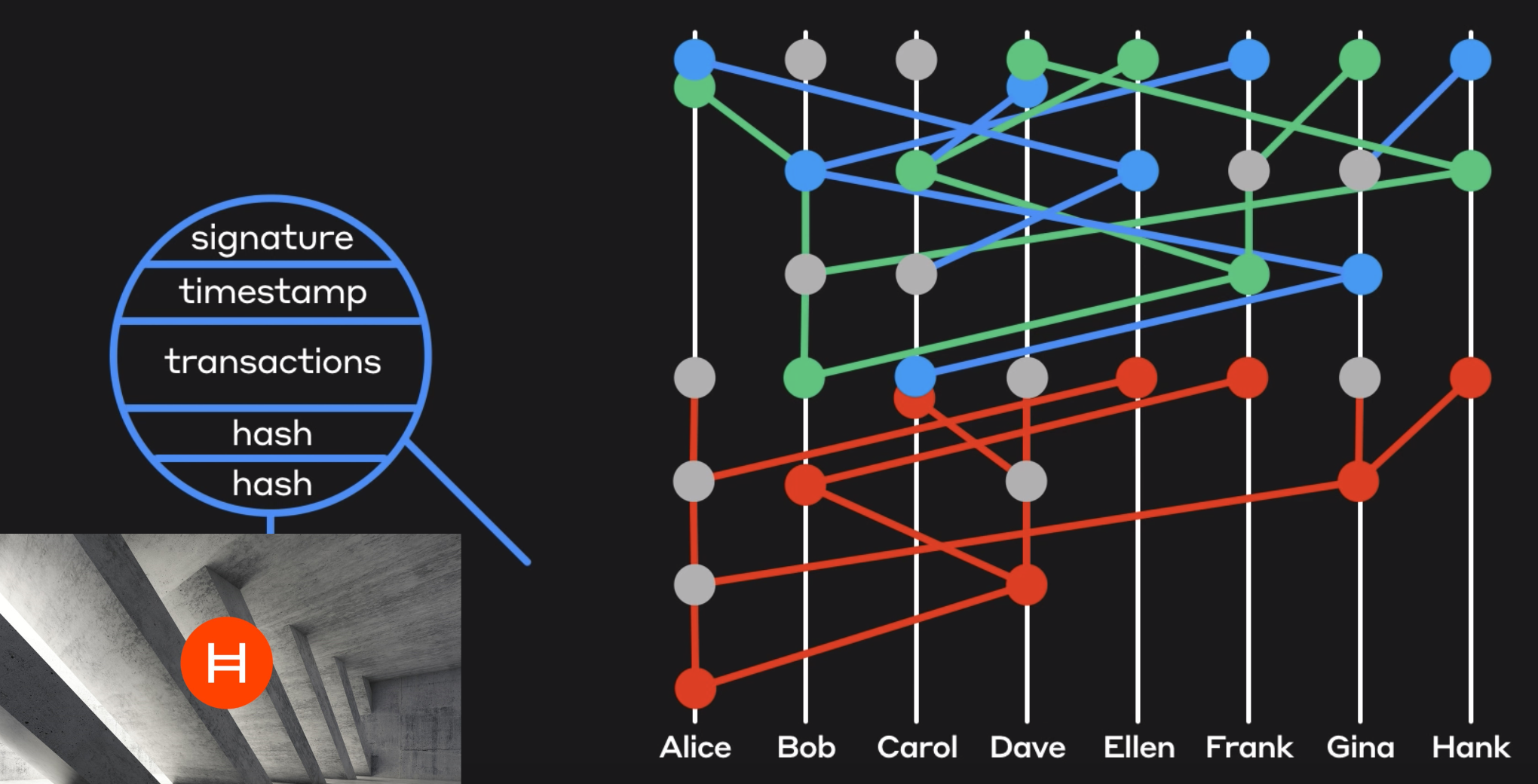 Compare this to the Hashgraph: in very simple terms, as the transactions flow into the network, the nodes arrange them into directed acyclic graphs (DAGs) (think of an ancestry tree compared to a linear chain of block) which are then quickly time segmented and shared with other nodes using the Hashgraph consensus algorithm; the Gossip About Gossip Protocol.
This allows for near-instantaneous and exponential sharing of information; nodes communicate at random all the information they hold to other nodes, similar to how a virus or pathogen might spread in a target population.
Each time two nodes successfully share information, including a time stamp, transaction detail, previous hashes, and a cryptographic signature, an 'event' is created, as opposed to a 'block' on a blockchain.
The history of events, and corresponding hashes, takes the form of a graph, or a graph of hashes; a Hashgraph. Thanks to this protocol, nodes can determine in seconds where a transaction should be placed in the history of the ledger. Auitable, decentralised logs of 'events' are created by the Hedera Consensus Service, and made available for Web2 and Web3 applications.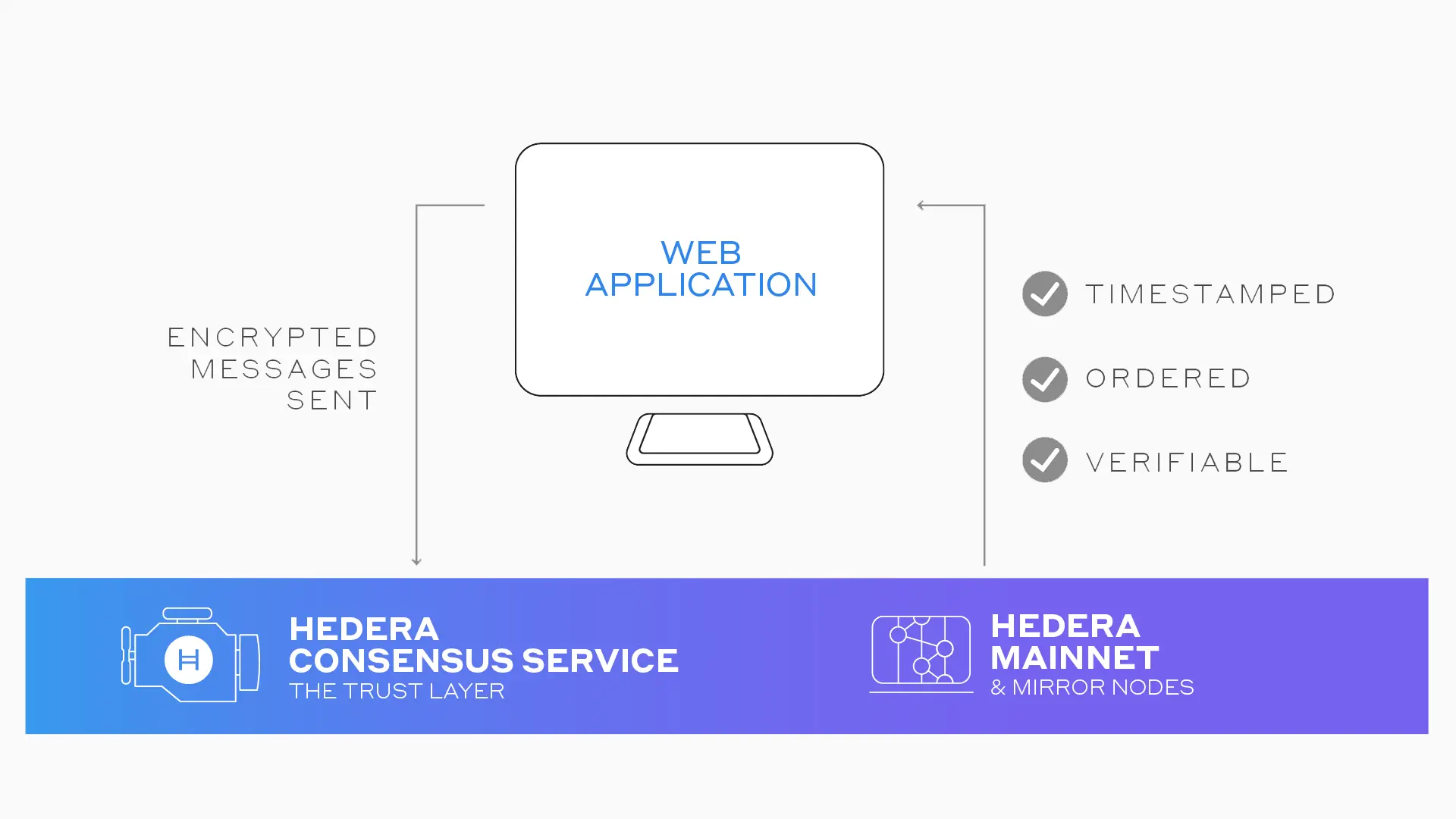 Hedera Hashgraph Platform Governance structure.
At the top of the governance, hierarchy is the Hedera Governing Council, comprised of 39 members made up of private and legal entities, distributed among various industries and geographical regions.
These entities will decide the development and direction of the project. Current council members include Google, IBM, BOEING, DBS, LG, UBISOFT, among others.

The Hedera HBAR Token
HBAR is the native token of the public Hedera Network. It has two core uses; Network Fuel and Network Protection.
Network Fuel
HBAR tokens are needed by developers for services such as minting NFTs and tokens, calling smart contracts, logging data and transferring HBAR on the network.
Network Protection
HBAR is needed to protect the network from attack via Proof-of-Stake (PoS). HBAR stakes on the network have a weighted influence for transaction validation consensus. Weighted voting makes it unlikely a malicious actor could affect consensus.
Hedera HBAR Tokenomics
The current market cap is $1.4B. There is a maximum supply of 50 billion HBAR, no more can be created or minted. At the time of writing the circulating supply is 24B, which represents 49% of the total supply.
The remaining tokens are held at the treasury of the Hedera Hashgraph, LLC, which is overseen by the Governing Council.
These coins are used for staking and are on a slow release schedule. Hedera explains the large concentration of coins held as being necessary to secure the network. An attacker could disrupt the network by owning or controlling a ⅓ share of the coins.
Hedera anticipates that "the released supply of HBARs will remain below 10% of the total HBAR supply for the first year and below 33% of the total HBAR supply for four-to-five years", according to their website.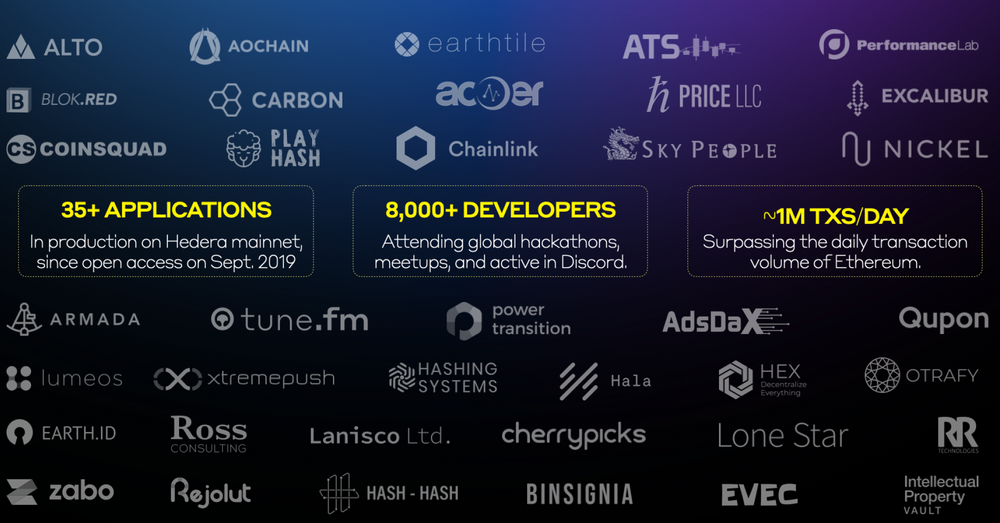 Partners and Future Direction of Hedera Hashgraph HBAR
Hedera Hashgraph's Banking and Finance Partnerships
Hedera has been active in cementing inroads in the banking and finance sector. In addition to the existing banks on the Governance Council, Africa's largest bank by assets; Standard Bank Group, recently partnered with Hedera Hashgraph, with the aim of reducing settlement periods and bottlenecks on their network, in addition to helping to increase transaction transparency.
Hedera Hashgraph CBDC
Rumors are circulating in the crypto space about a possible working collaboration between Hedera and an upcoming Federal Reserve-backed Central Bank Digital Currency (CBDC).
Hedera was first earmarked as a possible candidate for hosting a CBDC back in 2019 after India's National Institute for Smart Government (NISG) published a draft of its National Strategy on Blockchain, specifically referencing Hedera.
Hedera Hashgraph Healthcare
In healthcare, Hedera Hashgraph has forged a partnership with the UK's medical tech firm Everyware. The arrangement would see Hedera Hashgraph keep a tamper-proof digital record of temperature-sensitive COVID vaccines and pick up on any storage anomalies.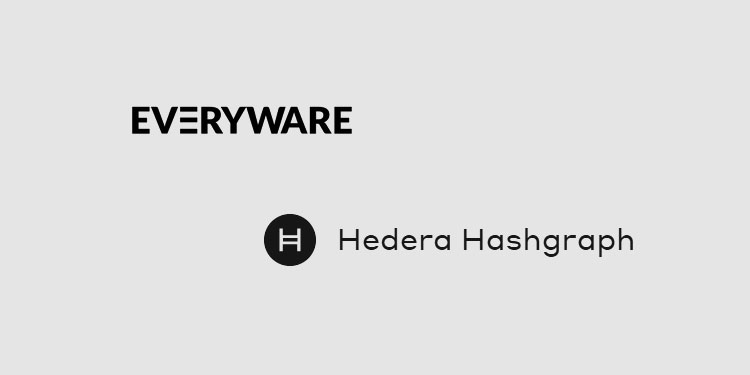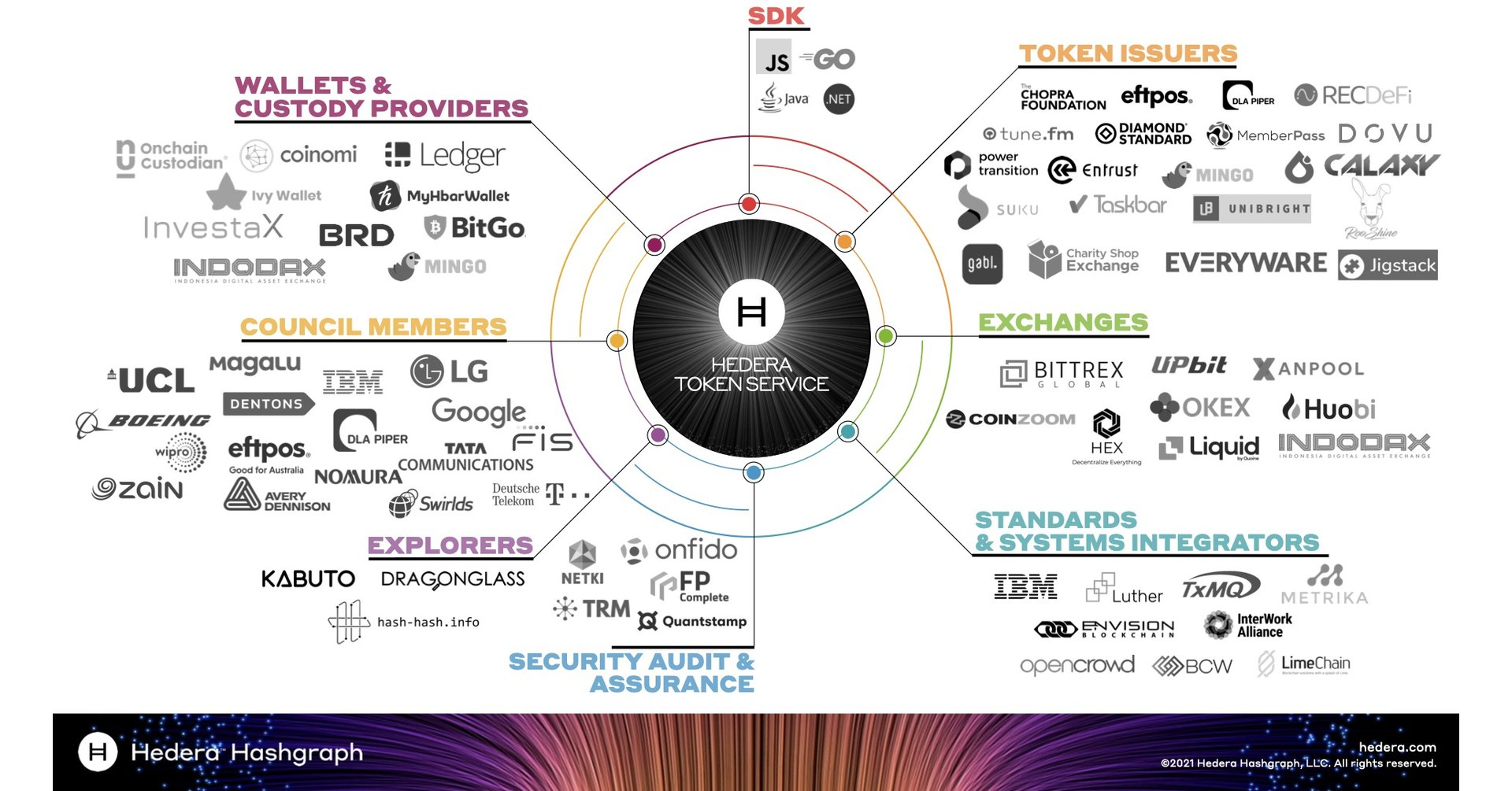 What is a Possible Hedera Hashgraph Price Prediction?
Hedera Hashgraph price forecast; as for HBAR price analysis and possible HBAR price prediction, at the time of writing the current price is $0.058. This marks a roughly 90%retrace from its all-time high price of $0.569229, a drawdown that has been seen throughout the overall cryptocurrency market. HBAR is below its ICO price $0.12 which is unlikely to remain once bear market conditions clear up. If HBAR was able to succeed in becoming a top 10 coin a minimum price of $3 could be reached, if the overall cryptocurrency market resumes its bullish sentiment, which would be comparable to other coins of a similar ranking and supply.
Therefore some traders see this current Hedera price as an opportunity for a good investment permitting them to have a long-term time horizon. Please make note, Hedera Hashgraph price predictions are often uncertain. Traders and investors should do their own research and this is not intended as financial advice.
Where can we Buy Hedera Hashgraph's HBAR coins?
Those looking to buy Hedera Hashgraph can find the digital asset listed on most of the main exchanges including Binance, Kucoin, Upbit and Bitrue.
Hedera Tokenomics
Fully Diluted Valuation
$2.9B
Circulating Supply
24B / 48.58%
ICO Date
Aug 13, 2018
-
Aug 16, 2018
HBAR Markets
| Exchange | Pair | | Trust score |
| --- | --- | --- | --- |
| | HBAR/USDT | $66M | |
| | HBAR/USDT | $65M | |
| | HBAR/USDT | $65M | |
| | HBAR/USDT | $63M | |
| | HBAR/KRW | $32M | |
| | HBAR/USDT | $32M | |
| | HBAR/USDT | $29M | |
| | HBAR/USDT | $27M | |
| | HBAR/USDT | $25M | |
| | HBAR/USDT | $22M | |
| | HBAR/BUSD | $22M | |
| | HBAR/USDT | $21M | |
| | HBAR/BUSD | $21M | |
| | HBAR/USDT | $17M | |
| | HBAR/BTC | $16M | |
| | HBAR/USDT | $14M | |
| | HBAR/XRP | $13M | |
| | HBAR/USDT | $12M | |
| | HBAR/USDC | $11M | |
| | HBAR/USD | $8.1M | |
| | HBAR/USDT | $6.1M | |
| | HBAR/USDC | $5M | |
| | HBAR/INR | $4.6M | |
| | HBAR/USDT | $4.5M | |
| | HBAR/BTC | $2.9M | |
| | HBAR/BTC | $2.9M | |
| | HBAR/USDC | $2.3M | |
| | HBAR/USDT | $1.8M | |
| | HBAR/BTC | $1.7M | |
| | HBAR/BTC | $1.5M | |
| | HBAR/USD | $1.4M | |
| | HBAR/USDT | $1.3M | |
| | HBAR/USDT | $1.2M | |
| | HBAR/BTC | $969K | |
| | HBAR/USD | $865K | |
| | HBAR/USD | $405K | |
| | HBAR/BUSD | $399K | |
| | HBAR/ETH | $384K | |
| | HBAR/EUR | $356K | |
| | HBAR/USDT | $348K | |
| | HBAR/BTC | $315K | |
| | HBAR/USDT | $304K | |
| | HBAR/USD | $263K | |
| | HBAR/BNB | $219K | |
| | HBAR/USDT | $210K | |
| | HBAR/THB | $181K | |
| | HBAR/USDC | $157K | |
| | HBAR/IDR | $132K | |
| | HBAR/USDT | $131K | |
| | HBAR/ETH | $112K | |
| | HBAR/BTC | $107K | |
| | HBAR/USDT | $91K | |
| | HBAR/BTC | $73K | |
| | HBAR/THB | $53K | |
| | HBAR/USDT | $42K | |
| | HBAR/BTC | $35K | |
| | HBAR/BTC | $25K | |
| | HBAR/EUR | $18K | |
| | HBAR/THB | $16K | |
| | HBAR/USDT | $15K | |
| | HBAR/BUSD | $15K | |
| | HBAR/USDT | $12K | |
| | HBAR/INR | $12K | |
| | HBAR/INR | $10K | |
| | HBAR/BUSD | $9.9K | |
| | HBAR/USDT | $9.8K | |
| | HBAR/BTC | $8.5K | |
| | 0XA55F26319462355474A9F2C8790860776A329AA4/0XC439E2053A97862D84FCF52629330C3E3A2D31F2 | $6.7K | |
| | HBAR/LCX | $3.4K | |
| | HBAR/BTC | $2.5K | |
| | HBAR/ETH | $1.9K | |
| | HBAR/USDT | $1.6K | |
| | HBAR/USD | $1K | |
| | HBAR/SGD | $487 | |
| | HBAR/EUR | $358 | |
| | HBAR/BNB | $257 | |
| | HBAR/BNB | $246 | |
| | HBAR/BTC | $230 | |
| | HBAR/INR | $94 | |
| | HBAR/THB | $2.1 | |
| | HBAR/USD | $0.0000000029 | |